Bring Home Dash for the Holidays
For a Limited Time Get $25 off 1 Dash Robot
Use Discount Code: DASH_25
Discount is applied on one Dash robot at checkout.
Creative Child Kid's Product of the Year & Toy of the Year winner, Dash, is beloved by kids and teachers around the world. 
Using one of Wonder Workshop's 5 free apps, like Blockly or Wonder, kids ages 6-11 can program Dash to move, sing, dance, flash its lights, respond to voices, make sounds, and even tell a story. Dash does not contain a camera.
Now with exciting hardware upgrades, the new Dash contains more working memory than ever before and an 18% longer battery life. It also includes a 1-adult/2-kid license to Class Connect Home Edition for 12 months.
Includes:
1 Dash robot

1 USB Charging Cord

2 Building Brick Connectors 

Class Connect Home Edition (2 kids/1 adult)
Class Connect Home Edition Includes:
2 accounts so a pair of kids can share a device while preserving their own progress as they work through puzzles and activities in Blockly
Progress tracking and management of the 2-kid accounts
Our Virtual Dash robot for 2 kids to use inside of Blockly. Kids program Dash onscreen in a rich 3D environment (for iOS 13+ devices and Chrome on the web)
Access to Coding Pathways, our new, multimedia coding lessons aligned to code.org's levels D-F. Kids watch instructional videos and complete coding activities based on the lessons.
72 Digital Learn to Code Challenge Cards from the Challenge Card Box Set, assignable inside of Class Connect, accessible by students in their Blockly app, for use with the physical Dash Robot.
60 standards-aligned Math activities for grades 3-5, assignable inside of Class Connect, accessible to students in their Blockly app for use with the Virtual Dash or a physical Dash Robot.
Access to a collection of premium, cross-curricular lessons, filterable by subject and grade-level
Access to our online course, "Getting Started with Dash & Dot"
*In a classroom setting, you may need to upgrade your Class Connect subscription to a Teacher Success Pack, which includes a license for 1 Teacher and 35 students.
2-student licenses cannot be combined.

Go here to learn more about Class Connect
Apps available for iOS, Android, Kindle Fire, Windows, and Chromebooks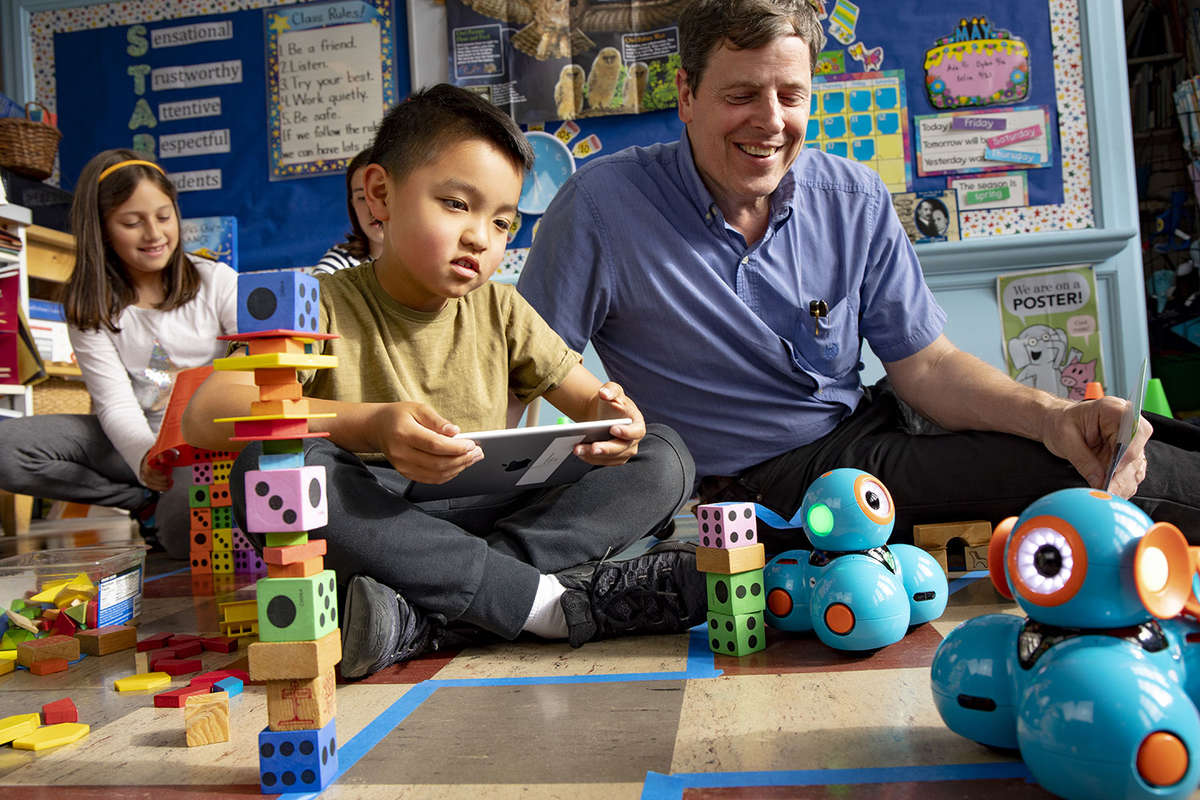 Dash is ready to go right our of the box. Fully charged, Dash has 5-hours of active play and 30 hours of standby time. Dash charges in 1-hour so it's great for classrooms and home play alike. Dash is is proudly used in 20,000 schools world-wide and growing rapidly.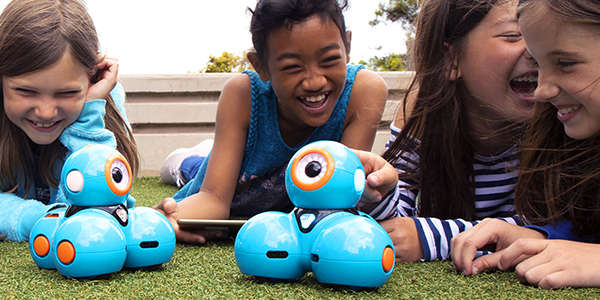 Dash helps kids grow into confident creative architects. Wonder Workshop's Annual Robotics Competition provides opportunities for kids to work together, helping everyone learn and evolve. The Robotics Competition is an encouraging and challenging community where kids can share ideas and build confidence. The grand prize is a $5K STEM Grant.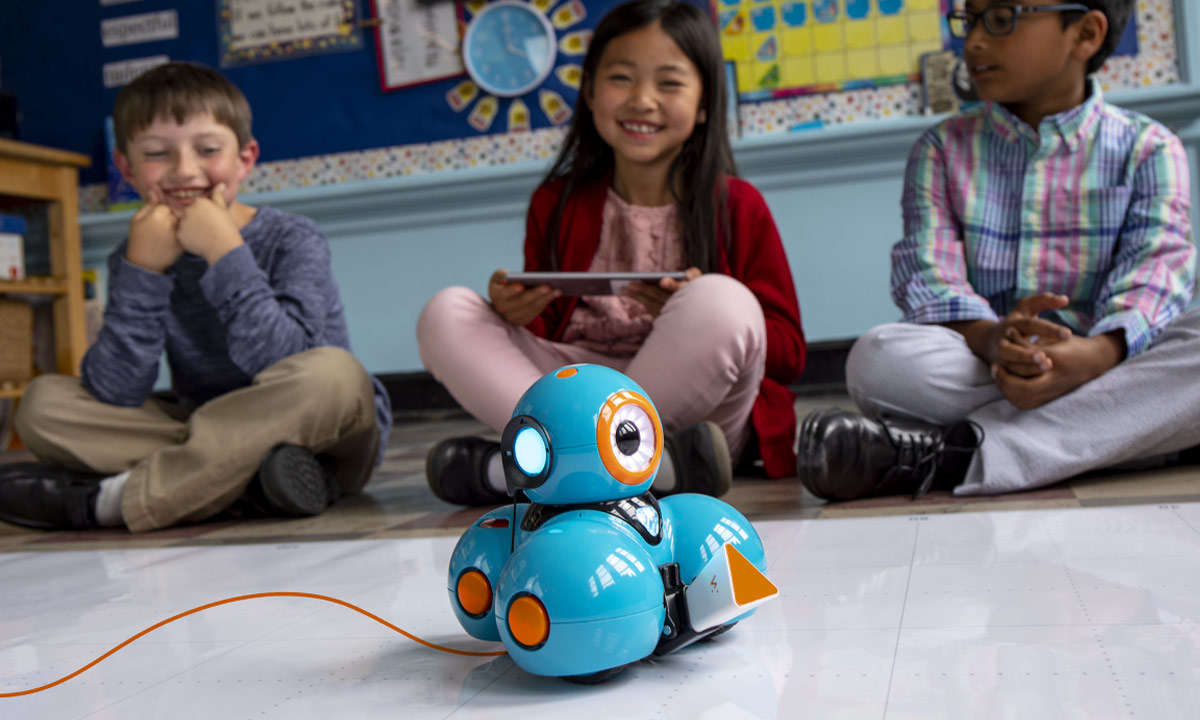 Extend the possibilities even further with Sketch Kit. Simply attached Sketch Kit to Dash or Cue and let your creativity run wild. We've included activity cards and in app projects to teach your kid the block-based coding skills they will need for middle and high school while developing critical thinking skills.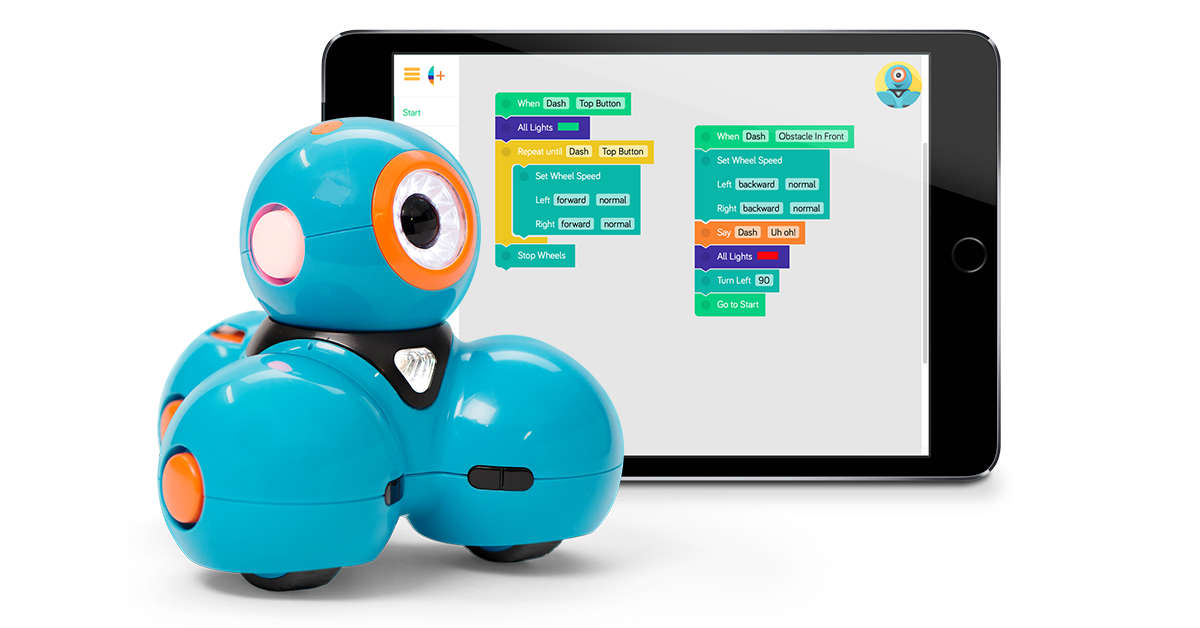 Kids can give Dash Robot voice commands and explore loops, events, conditions, and sequences. The free in-app challenges give your child hundreds of hours of STEM learning, while the fun accessories let you easily turn your robots into everything from a bulldozer to a catapult for engaging freeform play.